Student Feedback
I have included detailed student feedback for some of the modules that I am responsible for in Criterion 4. I have also indicated student feedback about my teaching in Criterion 1.

Another example of how students perceive my feedback, is from my MEd student, Mr Gerard Cain. See below:
In the time that Dr Du Plessis has been working with me, I have found him to be open, friendly and deeply committed to assisting me with my research.
Dr Du Plessis is always available to meet with me on request and provides sound advice, new insights and a multitude of ideas. We have been meeting at least once a month and I highly appreciate the advice given. Dr Du Plessis promotes debate around issues and accepts the views that I present.
Communication is always available, be it via cellphone, sms or e-mail. Dr Du Plessis responds timeously, at all hours of the day and even over weekends.
I receive regular information with regard to source materials and links to other electronic sources. Dr Du Plessis has also provided me with much reading material and is willing to assist me in gathering resource material from other centres outside of NMMU.
Dr Du Plessis has provided much support in the drafting of my questionnaire, interview schedule and journal in preparation for my field research later. In terms of my ethical research application, Dr Du Plessis ensured that all the relevant forms were forwarded to me and devoted time and effort in assisting me with the timeous completion thereof.
The level of commitment displayed by Dr Du Plessis is beyond my expectation, and I believe that I can gain invaluable guidance and support from such a dedicated supervisor.
Thank you for all the effort.
Gerard Cain
Student no. 207096499
Students seem to be very positive about my modules, as well as the way I teach them (see images below).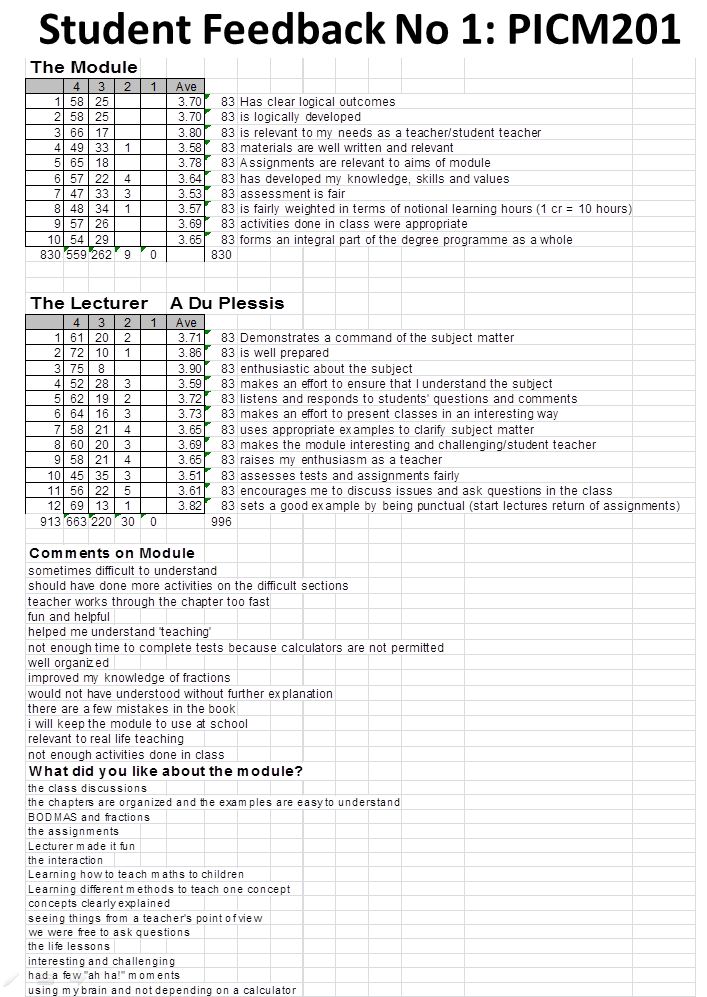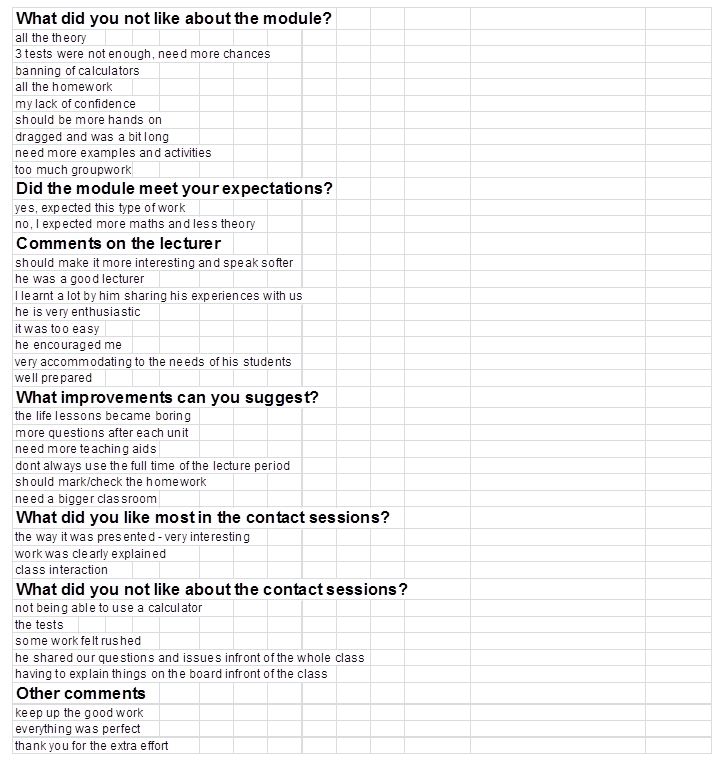 Below are a few extracts received from students regarding my expertise and the manner in which I teach:
  "I would hereby like to take the opportunity to thank you for your help with extra maths classes. It has really made a big difference to our understanding of the subject. I would like to thank you for your time and patience and allowing us to attend the extra maths classes, even while we were not in your maths group.
You have shown in so many ways what real teaching is all about. Offering up your time on a Friday afternoon to teach extra maths, is commendable. One can really se your passion for your work, through the way you teach. This has really stood out for me. I trust that your dedication not only to your subject, but also to all students, does not go unnoticed. That is why I would like to nominate you as a candidate for lecturer of the year! I really think you deserve it!" [Rowayda Fortuin, 2nd year student]
 Another one wrote:
 "I just want to thank you for encouraging me to be the best maths teacher. I learned a lot these few months. MY PRAYER FOR YOU IS THAT YOU NEVER LOSE YOU PASSION FOR TEACHING HERE AT NMMU(as you know that we as 1st years going through a lot-emotions ,pressure, etc.). I see you as mentor and not my  lecturer. One day I want to be just like you- I mean passionate, committed, encouraging, motivated, MAKING A DIFFERENCE . You made me work hard, push me beyond my limits. I thank God for a lecture like you." [Ntonio Martins, 1st year student]
Tarryn Govoni  wrote the following:
"I have always found Mr. Du Plessis a very passionate and enthusiastic lecturer.  His love for mathematics and his passion to see children and students enjoy mathematics and succeed in their study of the subject has proved to be very inspirational. I have learned much knowledge from his vast pool of experience that he has brought with him from his career as a school teacher into his position as a lecturer.  He always strived to "go the extra mile" and do more than simply teach the required curriculum.  He has endeavored to seek every opportunity to prepare us for our role as teachers by sharing personal stories and nuggets of truths and advice from his years at various schools.  I always felt that he never just "did the job" of teaching us. Mr. Du Plessis is also very professional in his position as lecturer.  He has always been extremely punctual for class and I can honestly testify that he has never failed to be well-prepared and organized, even amidst very busy times both personally and professionally." [Tarryn Govoni, 4th year student] [Click here to see more OR click on the icons images on the right]
A senior student commented:
"He demonstrates an exceptional flair for transfer of knowledge and mastery of educationally sound terminology.  I have come to know Dr Andre Du Plessis as an exceptional and brilliant teacher – one who has the capability to stretch the ability of his students to their maximum potential, to encourage one to go beyond one's own expectations.  His friendly, yet firm nature makes it easy to discuss challenging issues without making the student feel inferior or incapable and he gives praise for work well done. I experience Dr Andre Du Plessis as a source of knowledge, a master of his field, an inspiration, and a "colourless" human being.  In our society, people are so aware of race, colour, religion, and the ills of apartheid but in my interaction with Dr Du Plessis I have not sensed myself as being of a different race, colour or religion." [Brenda Subramardien, MEd student]
My leadership also requires that I attend to students who experience problems regarding academic issues. Below is a response from one of our PGCE Class Reps:
-----Original Message-----
From: jacquesdennis@gmail.com [mailto:jacquesdennis@gmail.com]
Sent: Tuesday, December 03, 2013 7:54 PM
To: Du Plessis, Andre (Dr) (Summerstrand South Campus)
Subject: Re: HMS128
Thank you Dr du Plessis! You've always been there for us this year! Thanks for that. I went home to Jeffrey's Bay but I'll come through tomorrow to NMMU.
Thanks again!
------Original Message------
From: Dr Andre Du Plessis
To: jacquesdennis@gmail.com
Subject: RE: HMS128
Sent: Dec 3, 2013 19:48
Dear Jacques
I have emailed him and is awaiting his response.
Regards
Andre du Plessis
 -----Original Message-----
From: jacquesdennis@gmail.com [mailto:jacquesdennis@gmail.com]
Sent: 03 December 2013 04:32 PM
To: Du Plessis, Andre (Dr) (Summerstrand South Campus)
Subject: HMS128
Good afternoon Dr du Plessis
I just checked my results and I saw that I have 0% for HMS128. I'm not sure how this happened. I sent Mr Ryan Raffan from the HMS department an email now as well. I know I missed 3 practicals because I went for operations but I provided his instructors with the doctors certificates from the hospital. Could you please look into this? Other than that all my results are exceptionally well.
Thanks for your time!
Regards
Jacques Dennis
205032451
Sent via my BlackBerry from Vodacom - let your email find you!
Module Evaluations PICM202 (Click on links below to view)