Criterion 2: Demonstrates expertise in approaches to teaching and learning facilitation that motivates and inspires students to learn, become independent learners, and enhance their development
There are several examples:
Bukelwa Kumalo: 
During our final year Faculty of Education Celebrations Awards in November 2018, this lady thanked me personally in her speech on behalf of her and all the students. My response to her and her reply follow: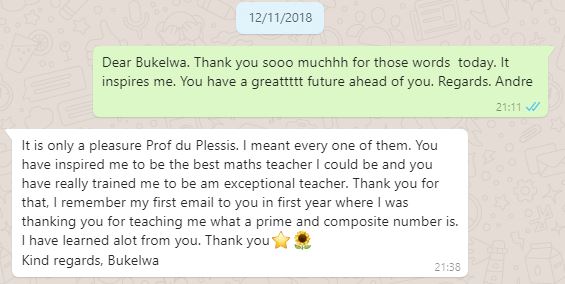 Jarren Gangiah: 
His response to me in November 2018 follows below:

Donnae Shone: 
Her recognition for walking the extra mile and making a difference from the 'Beyond the Classroom Leadership Programme4. Golden Key Society Award: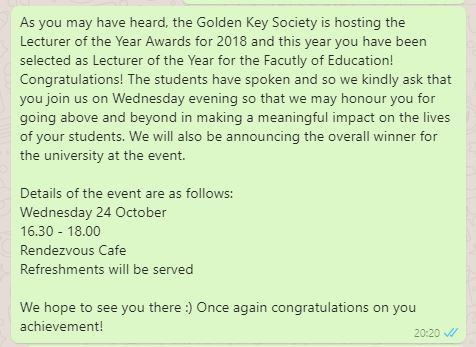 Ntomboxolo Mpofu: Hellping her during tough times
From: Mpofu, Ntomboxolo, (Miss) (s206620240)
Sent: Wednesday, April 17, 2019 12:46:03 PM
To: Du Plessis, Andre (Prof) (Summerstrand South Campus)
Subject: Gratitude 
Good Day Prof 
I trust you're well. You may not remember me but I was one of the PGCE 2018 students who once came to you in your office around April last year because I was giving up on my studies. On our graduation day I looked for you because I wanted to take a pic with you and show my kids this good hearted man who literally saved me from making/taking a very unfavourable decision of giving up on my studies but I couldn't find you, I guess I came out of the hall too late. 
Anyway without taking much of your time Prof I want to pass my sincere gratitude to you, if it wasn't for you I wouldn't have finished my studies as my situation at home at the time was too much for me and forcing me to give up on my studies but I came to you, you listened, advised and prayed for me. Thank you so much Professor Du Plessis, the passion and sincere care you showed us all was amazing and great to witness. 
I passed my PGCE Cum Laude and I have you to thank. I may not be working yet but I am grateful I was able to finish what I started and pursue my passion of a career in Education. 
Thank you again Prof. 
Sincerely, 
Ntomboxolo Mpofu. 
From: Du Plessis, Andre (Prof) (Summerstrand South Campus)
Sent: Wednesday, April 17, 2019 1:07:36 PM
To: Mpofu, Ntomboxolo, (Miss) (s206620240)
Subject: Re: Gratitude 
Dear Ntimboxoli 
I am speechless. Thank you so much for these words. I am very happy for you. God bless. You made my day. 
Regards 
Andre
In this section it will become evident that the way that I teach and the technology that I use, e.g. the iPad and my online Educreations lessons, inspires students to learn.
The two emails below, serve at testament to the above:

 From: OReilly, Caryn (Miss) (s20537269)
Sent: Wednesday, April 30, 2014 6:40 PM
To: Du Plessis, Andre (Dr) (Summerstrand South Campus)
Cc: Le Roux, Tashrika (Miss) (s211199761)
Subject: PICM FEEDBACK
Our experience with PICM was interesting, enjoyable and we were eager to participate in activities to discover possible answers. This experience was not solely due to the specific subject but also as a result of the lecturer.
Dr Du Plessis made use of various teaching and learning strategies like individual activities and assignments as well as group activities. The group activities were interesting since examples were done practically by the students. This ensures that we understand and grasp the reasons for working out and finding the correct answers (e.g. the formula for finding the area of a circle). Appropriate questions could then be formulated and asked where misunderstandings did arise. 
Dr Du Plessis never gave us the answers to questions instead he would use scenarios to allow us to realise why our way of thinking could not deliver the correct answers. Additionally examples and questioning was used to elicit our thinking. 
At times this made one feel despondent to answer since the idea of giving the 'wrong' answer can be intimidating.  In the end you realise this is actually what learning is about thus making teaching and learning an unforgettable experience. 
From: Le Roux, Tashrika (Miss) (s211199761)
Sent: Wednesday, April 30, 2014 6:24 PM
To: Du Plessis, Andre (Dr) (Summerstrand South Campus)
Subject:
Dr. Du Plessis was my PICM lecturer and just like any other lecturer, one is never sure what to expect. Due to my expectations of him, I was fearful of him in the beginning. He turned out to be one of the best lecturers I have come across during my studies. His lectures were interactive and I loved the technology he used when he taught us. There were no boring PowerPoint presentations and he recorded our lectures using his IPAD. This was interesting because we could revisit the work that was covered in class when preparing for tests and exams. Whenever my friends and I struggled to understand what was expected of us when doing assignments and so forth, we could always go to him for clarity. He will go out of his way for us and even respond to emails over weekends and midnights, if he was sitting in front of his computer.  Even though he is no longer my lecturer, I feel comfortable asking him for help when I need it and he has never turned me down. I wish to be a teacher like Mr. Du Plessis and I wish to be technologically literate so that I can draw my learners' attention in the future. 
The emails above serve as testament that my students experience my teaching and interaction with them as highly positive.
Tiaan Muller: