HOMEPAGE: PERSONAL ONLINE PORTFOLIO APPLICATION

*Do not use Internet Explorer. Please use ANY other browser
Ensure that Flash is enabled and dowloaded: https://get.adobe.com/flashplayer/
RATIONALE FOR APPLICATION: Distinguised Teacher Award
My cellphone rang on Tuesday afternoon 14 May 2019, shortly after 12:00. It was our acting Dean and Director of School, Prof Nokhanyo Mdzanga on the line. She said, "Dup, I just want to tell you something. I was coming out of the lift opposite your office and I heard a group of students talking. Eish, we miss Prof Dup. We really miss him." She said she responded to them, "I hear you miss Prof Dup?". They responded in one voice, "Yip, he is one of the best. Tell him the whole first year Science group of 2018 says so. We see him next semester." He will not be back, he is on sabbatical," replied Prof Mdzanga. Their faces apparantly dropped and the said "No, this cannot be."
The above was a turning point, as I realised that I have a very special relationship of trust and care with ALL my students. I am practicing a HUMANIZING PEDAGOGY, an aspect that will also be evident in my relection that follows further down. I base this on a number of things that happened during 2018, but will only refer to FIVE key events:
1. Bukelwa Kumalo:
During our final year Faculty of Education Celebrations Awards in November 2018, this lady thanked me personally in her speech on behalf of her and all the students. My response to her and her reply follow: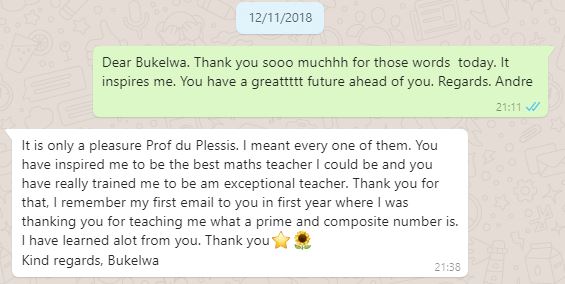 2. Jarren Gangiah:
His response to me in November 2018 follows below:


3. Donnae Shone: 
Her recognition for walking the extra mile and making a difference from the 'Beyond the Classroom Leadership Programme4. Golden Key Society Award: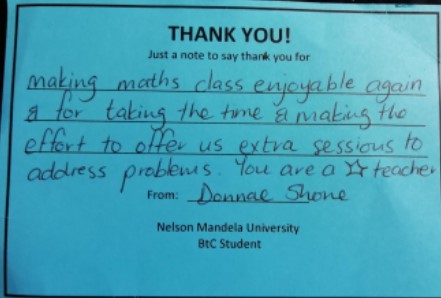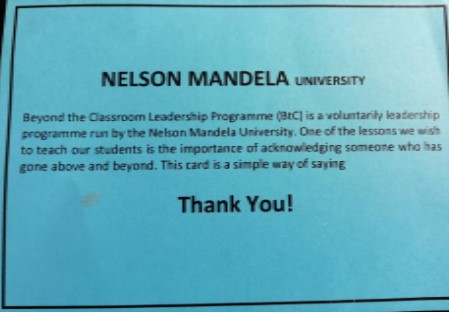 4. Golden Key Society: Lecturer Awards 2018:
I shared the invitation via WhatApp with my wife, my pillar and support: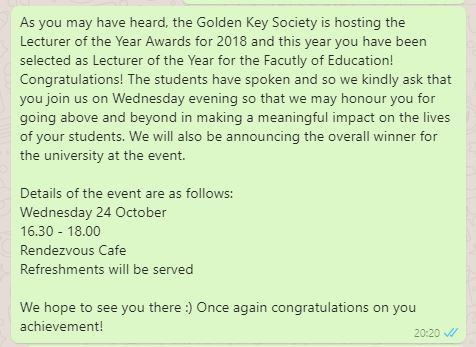 5. NRF rurality project Paterson: Bearing an excellent Nelson Mandela University student
In 2016 we were awarded an NRF grant. Myself and three academics engaged with the rural community and school in Paterson. My part of the project was to engage with isiXhosa speaking secondary school rural youth pertaining to their future aspirations. During 2016 and 2017 I worked closely with eight grade 10 and 11 learners and we explored their aspirations, challenges and ways to overcome their challenges by means of Photo Voice, Digital PowerPoint Story Telling and exploring online. The learners were brought to the university too, to co-explore it under my supervision. These learners were also taught how to use ICT and started to design their own presentations and videos. They were also taught how to use the internet and how to speak in public. One learner, Luzuko, became a real star leadership wise. The opportunities provided to him and our communication resulted in him becoming a leader that started to self-organise our project. He co-presented their stories with his participating peers to the staff and learners. In 2018 he started at Nelson Mandela University and until now in 2019, we are constantly meeting and engaging via WhatsApp, as he openly states that I am his mentor. I assisted him to plan a video that he mae and screened to the community. This lead to te forming of action committees which he steers. Education has led that he became an active citizen that mobilises for social change. I am so proud of this gentleman. As part of our project, we also published collectievly (click here for the article) and I also have a Masters' student who is analysing the data currently. We will be writing an article which focuses on the participants' aspirations: their aspirations, challenges and ways of enabling them to achieve their aspirations.
Based on these events in 2018, I critically reflected and came to the conclusion that I am making a difference in my students' lives at Nelson Mandela University. My passion, commitment and teaching as I embody it, show and my students are experiencing it in its true sense.
PORTFOLIO CREATION PROVIDES DEEP PERSONAL AND CRITICAL REFLECTION
Compiling this portfolio has provided me with a learning space in which I could self-reflect who I am, where I am coming from, the changes occurring in my teaching and learning, my teaching experience and my responsibilities. It also afforded me an opportunity to present myself to the world out there. At the same time, it assisted me to reflect on where I am going. I was able to self-assess my capabilities with reference to subject expertise, teaching and learning expertise, whether I am an inspiring person or not, my leadership, my reputation among students, my reputation among my peers and reflection related to teaching-and-learning as well as community involvement. I discovered positive aspects, but at the same time I realised that there are so many things or aspects that I still have to address. One can never be perfect, one never arrives.
I came to the realization that I have grown during my twelve years at Nelson Mandela University on so many fronts due to the opportunities that have been made available AND which I have embraced. From starting as a lecturer in May 2007, being promoted to Senior Lecturer in 2012 and Associate Professor in 2016, being Head of Department from 2013 to 2018 in the Faculty of Education, as well as receiving numerous awards at the Nelson Mandela University, this is evidence to me that I am growing continuously as an academic. At the same time, it is clear is that I cannot claim at all that I have 'arrived', as personal development is a journey that never ends. Being able to reflect about my journey, has also enabled me to reflect on where I want to go and what I can do to improve.
I have come to the realization that I am touching people's lives and that this is what teaching and learning is for me all about, being there and giving meaning to others by giving of one self. I also discovered that I am NOT perfect, I have many flaws!! There are still many things in my education 'armor' that I have to work on. It is never ending. There are also many colleagues that are doing things better than I do, people that inspire me!!

What also struck me, is that I became aware that the work that I am doing, is valued not only by faculty and the Nelson Mandela University in general, but also by schools as well as internationally. This resulted in being invited as a plenary speaker once locally, as well as internationally in Lithuania at the University of Siauliai in October 2013. In 2014 I have been re-invited as plenary speaker in Lithuania in October 2014 as well as being a plenary speaker in the Czech republic in September 2014. I have also been asked to compile a video presentation of the Cyberhunt approach which had been screened at a high school conference in Lithuania in April 2014. I taught several undergraduate and post-graduate classes in 2018 in the United Kingdom as per invitation by the Colchester Institute in Colchester. I assisted with supervision as I was approached to supervise Kenyan students from Moi University through the CERMESA DAAD project from 2016 and am currently still assisting. I have been invited to teach and co-supervise at the University of Maribor in Slovenia in Januray 2019. In November 2018, I was a keynote speaker at Walter Sisulu University.

MY TEACHING PHILOSOPHY, MEDIA, ASSESSMENT AND RESEARCH: LINKING MY PRACTICE AND THEORY
In this section, I am going to present various aspects, as these aspects inform who I am. These aspects refer to the following, namely:

My teaching philosophy

Where am I now in terms of thinking about myself, my humanness and
     pedagogy? 

My humanizing pedagogy

My module development and accreditation of the PGCE programme

My assessment

My mentoring

My research: Mentoring, ICT, student and learner related

My research profile

My school projects

My social change project

My personal 'self' development

My academic engagement beyond the classroom: Establishing an
     accredited journal 
My teaching philosophy
In 2006 I started to work on my PhD and in May 2007 as I was appointed at the then NMMU (now Nelson Mandela University). The more I read, the more I realised how little I really know. I started to grapple with concepts, for example 'teaching' and 'learning'. For some people these words imply that if one teaches, then students learn. This is quite a narrow conceptualisation of these two terms, as teaching and learning are not synonyms, i.e. to teach does not necessarily result in student-learning in the classroom or lecture hall. It is thus quite possible that some, or even many students, may leave my classroom without having a clear understanding of what has been taught. They might only learn and have an understanding of what I as the lecturer envisaged at a later stage, or they could even carry these gaps in their understanding with them for a long period.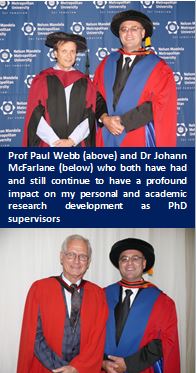 I also realised that we as lecturers are actually guiding our students towards an unknown future, thus they are 'learning for an unknown future' (Barnett, 2004). Yes, the future has always been unknown to us, but 'learning for an unknown future' also calls for an ontological turn (Barnett, 2004). The problem is, 'How can we learn for a future if it is unknown?' The word is not stable, not even complex anymore, it is super-complex (Barnett, 2004), thus there is not 'one truth'; there are multiple truths, multiple perspectives and more and more uncertainties. Hence, the more we know, the more uncertainties and anxieties are created. It has therefore become important to realise that I cannot provide my students with all the knowledge and all the skills, as knowledge is not finite; and furthermore, the skills that we 'teach' today may be out-dated in a few years' time. Hence, I need to instil self-confidence, self-belief, self-motivation and life-long learning in order to assist our students to deal with learning for an unknown future, i.e. how to deal with 'being' (Barnett, 2004).  
So where do I stand? My students are no longer 'tabula rasa' or 'empty vessels' to be filled with knowledge, as they come to my classroom with prior knowledge and experiences. I cannot provide them with all the knowledge, as knowledge is not finite (Nations, 2001; Dochy, 2001). The Internet Web Publishing and Book Publishing explosion is evidence of this phenomenon (Dochy, 2001) and as a result it should be my aim to assist students not to get lost in the 'oceans of data' (Du Plessis, 2004), but to prepare them to access and use information effectively, to filter through information and to distinguish between what is relevant, irrelevant and even 'artificial' information (Eriksen, 2001). 
I see myself as a lecturer-facilitator who believes in constructivist principles. Ontologically, I acknowledge the existence of multiple subjective realities. Epistemologically, I see 'how we come to know' as an active construction process of knowledge (Brooks & Brooks, 1999), not the passive consuming of information. In knowledge construction, knowledge is constructed socially and individually through a social interactive process (Gagnon & Collay, 2001; Marlowe & Page, 2005). Hence, learning is about understanding, applying, thinking and analysing and not about accumulating, memorising and repeating of information (Marlowe & Page, 2005). My focus is on authentic and meaningful learning through a process of bridge building between what students already know and what they are expected to learn, resulting in the creation of artefacts such as posters or mind maps of mathematical concepts and processes that represent their thinking (Gagnon & Collay, 2006). Therefore, for learning to become meaningful, it has to transcend the focus on mere factual information as "meaning assigned to facts and facts alone are meaningless until they are interpreted and added up into a coherent picture" (Hinchey, 1998, p. 45). I therefore administer informal class tests, for example on fractions to my intermediate phase student teachers, to analyse misconceptions in order to try and re-built sound foundations. I discuss these misconceptions with my students and provide them with input on, for example, why they think these misconceptions exist and how we can try to remedy them. These misconceptions are from real-life examples, mistakes that learners also often make.
Although I believe in the power of social interaction, it is important to note that "Constructing implies that learners construct knowledge for themselves: individually and socially" (Hein, 1991: IS, p. 1). Thus, we cannot negate or nullify the role of the individual, as it is the individual who still has to make meaning of the constructed knowledge in the end, even when involved in a social constructivist context.
Reflection plays a vital role in my learning armour, as I constantly ask my students, by means of journal writing and reflection questionnaires, how they experience my classroom and their learning experiences. My rationale behind these reflection opportunities is that I am of the opinion that it could assist in making learning and teaching more meaningful to both me and my students. I believe that my students realise that I do value their opinions, as I provide feedback to them about positive and negative responses that I receive. Hence, I hope they see that I value their inputs.
I am also very well aware of the fact that language can be a great barrier to many of my students, hence I encourage them to converse in their own mother tongue with students who speak the same mother tongue when possible when they find themselves uncertain, including when in heterogeneous groups.
I also create practical opportunities for my students to experience, for example, cooperative learning through the use of the 'Jigsaw' and 'Numbered Heads' exercises in a practical real-life context of the module in which they are engaged. I create opportunities for them to ask questions and let many of these student questions drive the mathematics teaching and learning, especially when related to misconceptions. I also pose many questions, which are then discussed in groups, after which the answers are reported to the rest of the class. Thus, I try to create opportunities during which my students can voice their collective understanding. I also make use of more capable peers to assist students to move other students through their Zones of Proximal Development (ZPD), as I am of the opinion that if another student can clear up the 'blurs' or misunderstandings of fellow students, this is an indication that these capable peers have a good understanding of the contents and concepts being explained. In addition, I also provide opportunities for my students to show their understanding of mathematical processes in front of the whole class, which result in in fellow students asking questions. To some this process is quite uncomfortable, but the majority rise to the occasion.
The focus in my class is thus not on teaching or instruction, but on learning. I also try to instil critical and creative thinking within my students, self-worth, concern for others, and tolerance for diversity, life-long learning and self-management. Furthermore, I constantly share with them my personal past-classroom experiences in order to develop their 'being', as my modules are not just about knowledge and skills, but for the preparation of ways of dealing with educational and pedagogical 'being', showing them that there is not just one-way of dealing with reality.
However, it is also important to state that I do lecture in the traditional manner at some stages, as instructivism does have a place according to a well-known constructivist such as Von Glasersfeld (1995), and according to the constructionist Papert (1991), but I am cautious as the traditional mode does not necessarily leads to proper understanding in all instances. But then, I also acknowledge that not all constructivist learning contexts always lead to clear understandings either.
My humanizing pedagogy: Practicing an embodied Humanizing Pedagogy as my teaching philosophy [My NINE key points]
Where am I now in terms of thinking about myself, my humanness and pedagogy? My teaching philosophy is simple: Show respect to your students, show that you really care about their well-being and academics, set high expectations, provide support to them and live and model what you profess. Students are clever, they see whether one is geniune or not. 
My teaching style is eclectic. I never uses just one way of teaching. I would categorise myself sometimes as an instructivist, at other times a constructivist and at times a cognitivist. Some times I talk-and-chalk, but mostly I use exploration, hands-on engagement, class- and group discussion to explore the Methodology of Primary School Mathematics Method Modules for which I am responsible. We explore common misconceptions and how to correct them. My students co-teach many times with me, as they are requested to come and share their explanations on the white board or touched screen stylus tablet with the rest of the class. I expose my students to all types of technology and the question-and-answer technique as teaching method forms an integral part of my teaching. This is important, as the 'What to do' and 'How to do it' is NOT as important as 'WHY do we do it in this way?" Students have to understand the 'WHY' behind the Mathematics and not just the mere 'How to' recipes. They have to be pro-active to identify possible learning problems that might occur in the Primary School Mathematics classroom as learning space. Thus, I model by means of various teaching startegies and by letting them construct teaching aids by means of inexpensive material. I also use the online Moodle Nelson Mandela iLearn platform.
I also teach Philosophy of Education and in this module the exploration of the self by means of critical self-reflection, free-writing, guided prompt or question based reflective writing, classroom discussion, the creation of cellphilms, creating opportunities for students to share their thinking and understanding of contentious concepts and topics, etc. forms an integral part of my teaching. As for the Mathematics Method modules, I also use the online Moodle Nelson Mandela iLearn platform for the Educational Philosophy module.
I also develop my material for my students and develop it in such a manner that it requires them also to engage with online textual and multimedia material [see 'My media' section below for example].
I would profess that I am practicing a humanizing pedagogy and my reason for stating this will become evident from the below, HUMANIZING PEDAGOGY as my all encompassed teaching stance philosophy. My NINE key points follow below and have been numbered from 1 to 9.
As academic and HOD/HOP in the Faculty of Education, I was part of a journey in which I interrogated myself pertaining to a drawing that I have made that depicted a humanizing pedagogy. I also had to reflect what I saw in fellow HOD's drawings pertaining to a humanizing pedagogy. The following became eminent after reflection regarding practicing a HUMANIZING PEDAGOGY and how a view my humanness. I present my written reflections as themes below. I have also published a collective article about this: 
Zinn, D., Adam, K., Kurup, R. and Du Plessis, A. (2016). Returning to the Source: Reflexivity and Transformation in Understanding a Humanising Pedagogy. Educational Research for Socail Change, 5(1), 70-93. [Click here to view article]
1. Uniqueness
When we talk, discuss, read and listen to someone else's opinions, perceptions and understanding of a concept or observation, we tend to think that our thinking and understanding is similar about a concept, even after we have articulated our understandings. This seems to be the ideal, but then our background and cultural tools are different. We cannot claim to be part of one objective reality; rather, we are part of our own subjective reality that suggests that there are multiple realities. This uniqueness of our understanding became evident when I reflected and wrote:
I have realized that when I look at my understanding of a humanizing pedagogy by comparing it to the collective drawings, that how I or someone else perceives, experience or understand the concept, interprets it, is not always, in fact in most cases our thinking, perceptions, experiences and understandings are different. It cannot be the same, as realities are different and we all have our own personal positions. The collective cannot always be 100% on the same level of understanding.
2. Social responsibility and sensitiveness towards others
As human beings, we have a responsibility to show that we care, but not wrapping another person in cotton wool. We have to reach out, but at the same time be conscious that our position does not have to be identical to those of another fellow human. This became evident when I stated:
I was feeling that I have a responsibility, a social one. One has to help his fellow students and colleagues. I was feeling, this implies, i.e. the drawing implies that one has to be conscious of where the 'other' [person(s)] positions himself or herself.
3. Equity and sincere in learning
Academic staff seems to see themselves as on another level when they think of and compare themselves to their students. We seem to think that we are more knowledgeable and skillful. This probably emanates from the way that we saw our teachers and lecturers when we were at school and studying at university, as the system perpetuates the lecturer or teacher as the knower and the student or learner as the inexperienced empty vessel. This is exactly what a humanizing pedagogy tries to change as it aims to promote co-learning and rethinking our current 'power' relationship. This was highlighted be the following words:
We as academic lecturers see us as 'bigger' as our students, 'bigger' in the sense of being more knowledgeable in our subject as well as in terms of experiences. The figure [my drawing] does not show the 'pouring of knowledge', rather, it highlights assisting, but not just giving [in a traditional sense]. It is walking with on the path by lending a hand(s), not just [giving] a hand. In a manner, it is scaffolding learners [students], i.e. taking them from where they are to where they could be – potential.
4. I am a co-learner
Revisiting my picture, I became aware that it actually portrays me to a great extent. The learner or student is not the solo learning person; I am also a learner during our interactions:
I am also a learner. I am also in a learner's position pretty much of the time as others lend a hand to my thinking and growing as a person too. We all learn from one another. We learn good and bad or not so good things too.
5. Disagreements and not knowing it all are part of learning
Learning does not imply the mere agreement and acceptance of everything from the lecturer. It is much more than agreement, in fact, learning happens when the mind is stretched and when we are challenged, when our thinking about something is turned into disequilibrium. This emerged when I wrote:
We have to disagree in many instances. These disagreements are valuable to take us forward, to rethink our own thinking and own positions. We need the hand, feet and input of others too.
6. It is in order to NOT always to know all the answers as leader
Leaders are fallible; we do not always have the answers. I was also struck by what I have written, when I read the following:
As a lecturer and as a leader, one is not the 'know-it-all', have all the answers and does not always have a perfect plan of or on how to 'conduct' leadership and showing the way. Lecturers and leaders also need hand holding. It is sometimes about letting go … As we are all unique, there will be negotiated understanding, understanding that is temporal. It is about humanness, about letting go, forgive, forget, move on … It is about change, being reflective and reflexive. It is about transformation.
It became clear to me that leadership is not just about changing others; it is also about transforming yourself, i.e. your thinking, doings and perceptions as leader of what is 'right' and what is the way forward.
7. Learning and doing has no end
Learning what a humanizing pedagogy is, is not a solo endeavor, it is a collective activity that is ongoing and does not have an end. The spiral in the 'hand' drawing represented the above to me. Equally important, there is not just one finger on each hand, all the fingers need their fellow fingers to work together:
It is 'how' one uses his or her fingers that are important. One does not use all one's fingers in the same manner. Discovery and becoming aware of one's humanness is a process, one is going through spiraling phases in different ways. No end in sight.
8. Sharing and receiving is vital
A humanizing pedagogy does not imply a one sided dimension, i.e. one person giving and the other merely receiving. It is about giving and sharing from both parties, as depicted by the Bartho drawing. I highlighted the following:
We share, but at the same time the receiver should come to the realization that sharing does not just mean receiving all the time, but also giving in other ways what one possesses, the receiver can also share.
9. Learning from one another is key to progress
The community drawing made me realize that we learn from one another all the time. I wrote:
Learning from one another is vital. Everyone has something to contribute in his/her way. The size can differ, but it still counts. It entails moving into and out of the centre and standing on the periphery at some times, probably most of the time.

My module development and the accreditation of the PGCE programme
The new PGCE programme and BEd Intermediate Phase programme received accreditation in 206 and 2017 respectively. I playded a key role as HOD regarding the accreditation of the PGCE programme. A brief overview of the principles of the PGCE programme can be obtained here (click here). 
I developed the new School Based Learning module for 2019 (click here). I developed a new assessment tool for the School Based Learning module, as Faculty want to move away from 'tick boxes' and 'marks' to rather achieving outcomes at a certain level. I also included reflection excercises which staff can view after students have been to schools, in order that staff can obtain a picture of students' experiences. The module also has contact sessions during which I have ensured by including reflection related tasks that they can be enabled to share their expetriences with one another. he design, contents, formatting and layout was all done by myself.
In addition, I was also tasked to design the Educational Foundations module, which included the formatting and layout, design and contents. I have completed this with the assistance of colelagues. However, Theme 2, was re-designed by me, as I included reflection excercises, flipped learning and hyperlinks to videos and texts. Students have an opportunity to download the pdf format of this module and can then click on the various links in Theme 2 which then will open the texts or videos (click here to view).
I was also tasked to develop a module and textbook for the BEd Intermediate Phase Mathematics Method and Theory modules. I have designed a pdf textbook containing hyperlinks in order to assist students who struggles with certain aspects to explore these aspects online by means of links to YouTube videos or links to online texts. The design, contents, formatting and layout was all done by myself. The module and textbook (2 chapters of the textbook still in design) have received extremly positive feedback from the external reviewer. The module can be viewed here (click here) and the pdf ebook with hyperlinks here (click here). 
My assessment: Informing my assistance to students AND Cellphilms as innovative assessment transcending the traditional ways
Assessment in mathematics creates a lot of 'angst' among many students. Therefore I provide my students with multiple opportunities to improve their marks, for example, those who performed well do not have to re-write a test, but those who do want to improve, may take another scheduled test. I use the test answers of the students as a learning opportunity by sharing what I have noticed. Thus, assessment goes beyond the mere recording of marks. 
Students are also provided with memos and sample previous tests, especially first-year students, who are still very 'fresh' in their first six months at university., placed on the LEARN portal. The same applies to written assignments, as students are given a second opportunity to obtain a minimum pass mark for an assignment, if they did not meet the requirement in the first instance.
For me, assessment is not about the accumulation of marks, rather, I use informal and formal assessment to inform my teaching AND my SUPPORT to my students. Some of my assessment tools include critical self-reflection by means of free-writing, guided prompt or question based reflective writing, classroom discussions and the sharing of one's thinking and understanding. These tools enable me to plan for interventions by means of providing extra contact sessions. I provide extra contact sessions for students who require more assistance or who wants to practice more examples or want me to re-explain something. The students indicate what times during the week they are available and then I plan arround them and book a venue in our Faculty of Education.
I recently started to introduce my students in my Philosophy of Education module to cellphilms. Instead of using traditional written essays as assessment tool, I showed students how to develop their own cellphilms as a group to reflect on the Educational Philosophy module and to share their insights regarding the learning and any changes that this module brought about. The whole process, including planning by means of storyboarding, were explained to them and time in class was provided for students to plan collectively in their groups. To explore the cellphilms and the process, click on the link. (click here)
My mentoring of colleagues
I have been the designated mentor of one staff member who joined the then NMMU in 2016. I have also been the non-designated mentor to a new staff member who approached me on the first day when he joined the Faculty of Education to be his mentor. I have assisted this staff member in all possible ways and he has been very appreciative of my assistance. 
My research: Mentoring, ICT, student and learner related research
Being a teacher at heart, I try to identify issues that requires research, especially research that has the potential to inform practice and action. As such, the Faculty of Education noted that there are many areas that requires discussion and deep thinking. Four areas which I have identified as a result of the above, is:
ICT usage of our staff

ICT usage and perceptions of our students related to ICT learning

School Based mentoring of our students

Retaining 'good' student teachers to remain in the teaching




    profession
There are many views, or should I rather state 'perceptions', related to the above. However, my position is that one requires data in order to make informed decisions, as we should not make decisions based on perceptions or assumptions. As a result of the above, I am busy with research, which had been approved by the ethical committees, related to the above. I believe that research should be useful to inform our planning and future action.
I also have a great passion related to research which can make a difference, especially research related to social change. As such, I have been involved with with the Paterson NRF rural project, which I have alluded to above.
My school projects
I am also involved to facilitate and plan school related ICT, Mathematics and Science Projects funded by the Herman Ohlthaver Trust. Dr Ron Beyers facilitate these interventions, after we have planned them collectively. Or report for this year for the last few months can be read by (clicking here).
My research profile
Compiling this online portfolio also helped me to create my online research profile on Research Gate, a portal where academics share their expertise and publications, as well as obtain a rating for their publications. Below is an image of my Research Gate profile, as well as link to it. I have also applied for NRF rating in 2019.
https://www.researchgate.net/profile/Andre_Du_Plessis/scores 
My personal 'self' development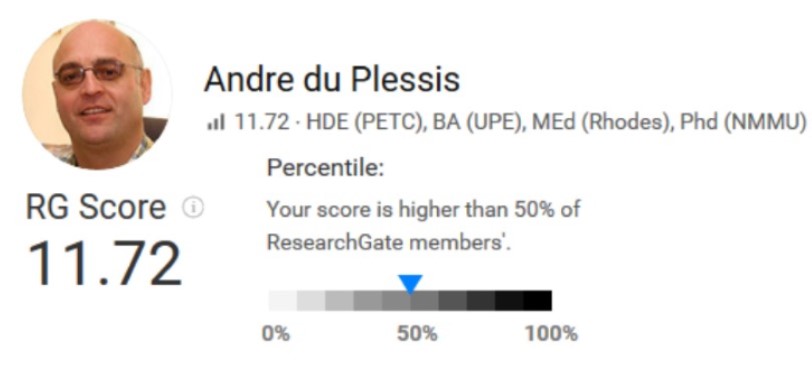 As a life-long learner, I try to stay abreast and to develop myself through applying for courses and scholarships when advertised. The three recent year long ones that stood out for my were the following ones: 
My academic engagement beyond the classoom: Establishing an accredited journal 
Academic scholarship forms part of teaching and learning. I am very happy to state that I have been one of the co-founders in 2007 of and Academic  Journal, Educational Research for Social Change. Our journal has received accreditation as a recognised journal that qualifies for subsidy from the Department of Higher Education. We appeared in the following accreddited lists from the dates below:
DoHET from January 2016

IBSS from February 2016

Scopus from November 2018
The journal is available at http://ersc.nmmu.ac.za (click here to view journal)
CONCLUSION: What emerges?
It is evident that I have been transformed in so many aspects. This portfolio is testimony to it. At the same time, it is important to acknowledge that my personal transformation has not ended, as it is an on-going dynamic life-long process. I NEVER stop learning.