Commendation from academics not related to the NMMU Faculty of Education
Dr Johannes Pylman from the University of Fort Hare  
From: Pylman, Johannes <JPylman@ufh.ac.za>
Sent: Monday, May 13, 2019 6:27:06 PM
To: Du Plessis, Andre (Prof) (Summerstrand South Campus)
Subject: RE: Payment - External Examiner : Prof A. Du Plessis 
Dear Andre  
I as well as the student was happy with your constructive feedback, as your feedback was indeed a great learning curve. Let us talk about it on Thursday as I'll be out of office as from tomorrow until Wednesday, attending our second graduation ceremony in Alice.  
Kind regards. 
Nicky
Dr Ronel Callaghan from the University of Pretoria
From: Ronel Callaghan [mailto:ronel.callaghan@up.ac.za]
Sent: Tuesday, 22 January 2019 12:13
To: Du Plessis, Andre (Prof) (Summerstrand South Campus) <Andre.DuPlessis@mandela.ac.za>
Subject: Re: Verslae 
Hallo Andre 
Jou kommentaar is besonders deeglik en van groot hulp.  Ek dink jy praat met deernis :) met die studente, wat hulle baie waardeer.  Dis ook duidelik dat jy regtig met moeite die dokumente bestudeer, want mens kan nie soveel waardevolle kommentaar lewer net op 'n vinnige oorsig van iets nie.  Daar is min aspekte wat jy voorstel wat ons nie gaan aanspreek nie. 
Ek dink soms ons het almal opleiding nodig in hoe om te eksamineer, want dit is eintlik nogal 'n moeilike iets om te doen.  Hoe om kommentaar te lewer wat waarde toevoeg, sonder om soos nog 'n studieleier te klink, en hoe om krities te wees, sonder om naar te wees.  En hoe om elke studie op sy eie waarde te eksamineer sonder om jou eie spesialiteit daarop te probeer afdwing. 
Vir my is die hele proses van eksaminators soek en met hulle terugvoer werk nogal 'n uitdaging:)  Elke keer soos 'n dobbelspel. 
Soms werk dit goed uit, soos met jou :)) 
Lekker werk!
Ronel
Prof Cheryl Hodgkinson-Williams from UCT (previously from Rhodes) stated that she has full confidence in me as ICT in Education BEd Honors moderator, as well as MEd ICT in Education external examiner: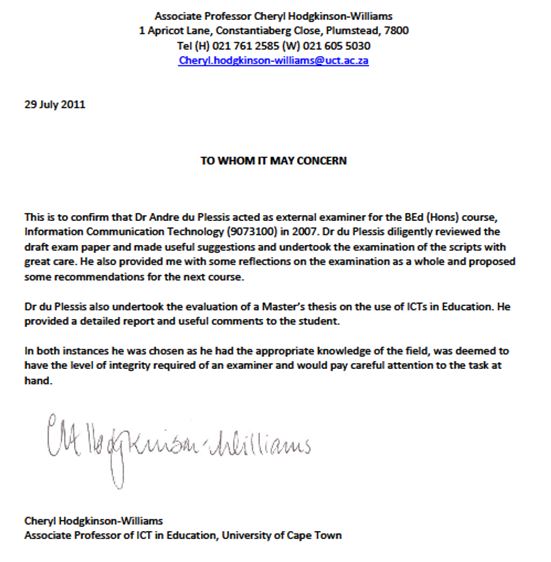 Prof Rossouw von Solms of the ICT Department at North Campus, has also made use of my ICT and School experience, as he referred one of his MTech students to me to provide assistance: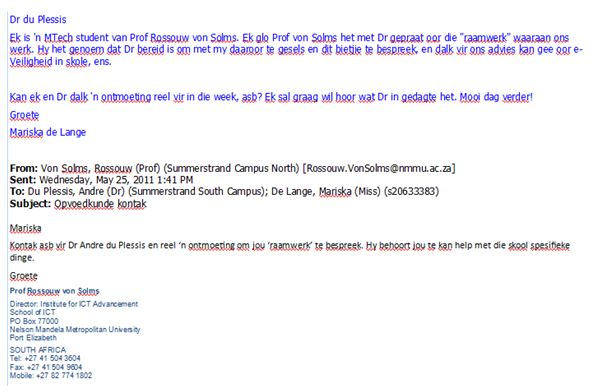 Dr Drik Greeff of the Department of Education (DOE), Eastern Cape, is also very positive about my contributions related to ICT development in collaboration with the DOE (Click here).
I received positive feedback from Mr Markus Mostert from Rhodes after a presentation at The Walter Sisulu University.
Prof Dr Maritin Billek
Invitations based on my expertise: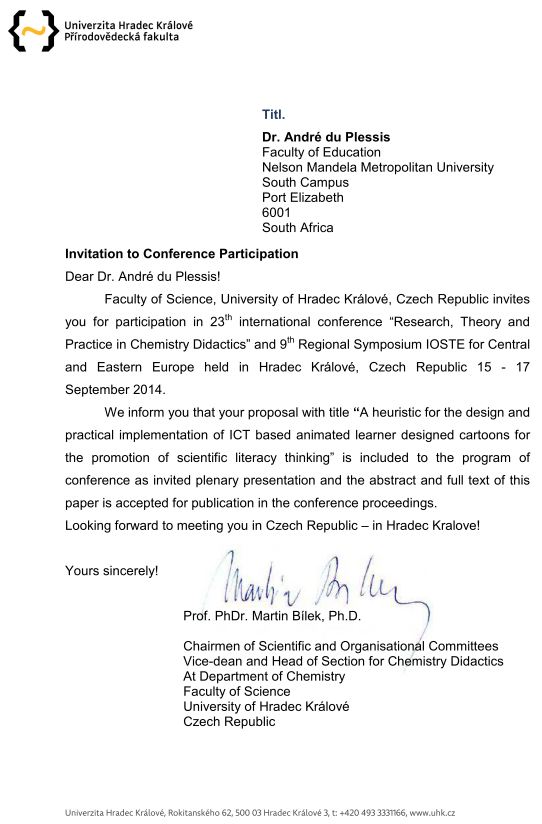 Prof Dr Vincentas Lamanauskus