Criterion 5: Reputation among and recognition from peers: Respected by peers for being an excellent teacher/facilitator of learning
In the previous section, I have indicated that I do believe that I am well respected and that I have a very good reputation among my students, as evident from their responses. I am also of the opinion that I am really walking the extra mile.
I the three years and one month that I have been at the NMMU, I think that I was able to show to my fellow colleagues that I am not only a caring person, but that I am also a hard worker and an innovator. Many of my colleagues have often asked me for advice or even to work with them on projects.
In 2011, I have initiated the Education Faculty Journal Initiative [click here http://ersc.nmmu.ac.za] an initiative that could assist in building more academic capacity in our faculty [see image below]. We are applying for DoHE accreditation this year and have been in contact with Me Carmen van Leeve regarding this process.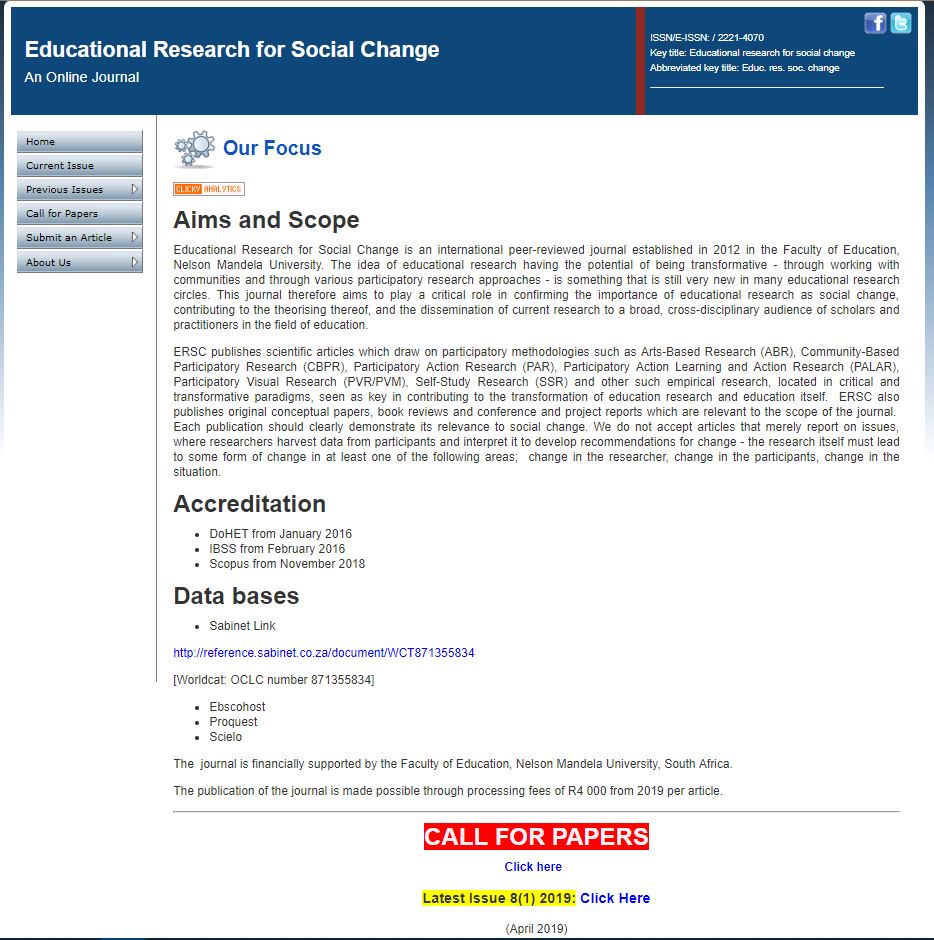 My reputation from peers is presented in the next section. I would like to state it categorically that all that I do is not to show how good I am, but rather to show that I do have certain skills that could be utilised to build capacity and to add value to the faculty. It is about building networks and relationships into which we all can 'tap'.
DVC Academic recommendation: Below is a link to the recommendation of the DVC Academic, Prof Piet Naude, for my application to the HELM LEAD HEI Leadership Scholarship Programme. This clearly suggest that I do embody the qualities of a good academic and as teacher on several fronts. (Click here) 
Helping LEGO Teams
I was pleasantly surprised when I received an email an phone call after the NMMU Teaching and Learning Breakaway of 5 June by Natasha Saunders based on my presentation at the Breakaway. Someone else has informed her about my presentation and she is of the opinion that I can be of value to their team by sharing ideas with the (see email below). We have set up an appointment with her and her team for Friday, 13 June 2014. This just shows that our creativity and enthusiasm goes beyond the NMMU campus. We can help to make a difference in some people's lives and in society, helping with learning and social change.
From: natashasaunders@telkomsa.net [mailto:natashasaunders@telkomsa.net]
Sent: Monday, June 09, 2014 8:46 AM
To: Du Plessis, Andre (Dr) (Summerstrand South Campus)
Subject: A First Lego League Team would like to interview you.
Morning Andre
Ronald gave me your e-mail details and said you may be willing to be interviewed by one of the FLL teams.  Would you perhaps be available this Friday after 11?  I have approached the school to see if I can get the team released earlier.
I would also like to chat to you about a new mechatronic high school I am developing.  It will run on an open plan layout and combine elements of home schooling with the traditional classroom approach.  I was chatting to Ronald about it and he suggested you and I may enjoy each other's out of the box approach to education.
Regards
Natasha Saunders
Coach
Team Techno Splat
0836540491
041 3673398
Sent from Windows Mail
The following sub-links below this criterion, will expand further on the above.